Colin Teets Update 10/28/08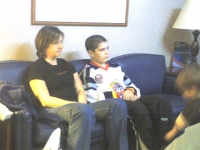 It was another full day of therapy and school for Colin. In speech and language therapy he is really working hard on small phrases to express needs and wants. Lisa is helping him with the motor planning for the initial sounds of words. He seems to get stuck on one sound. Sometimes everything sounds like, "aye", and other times everything begins with "mm". He does have a useful tool called a Lightwriter. It has a keyboard on which he can type words and it will say them when he presses the space bar. This tool has its limits with Colin because he gets confused on spelling. He also has a dry erase board. He tries very hard to write words with his left hand, but being a righty you can imagine what the writing must look like!Paul was off work today, so he brought lunch and spent the afternoon and evening with Colin. During lunch we ate and watched the Columbus Bluejackets' game in the rehab lobby area. Colin sat on the couch with me and enjoyed the game until he got a little tired. I took Colin to his room to lie down. He and Paul watched the end of the game from the room. This gave me the opportunity to visit work. I was able to personally thank my friends for all that they have done for us, say hello to my students and fill out some leave of absence paperwork which will allow me to stay with Colin until Christmas. Simon, Colin's good friend and classmate, came for a nice long visit with his mom. They brought Colin a vanilla milkshake. We couldn't get Colin to stop smiling. Simon is one of the boys from his soccer team that shaved his head as a tribute to Colin. What a meaningful gesture from such a young person. Simon, along with Connor, Alex and A.J. have shown honor and respect for a friend in such a mature way that my husband and I are amazed. Four teachers from Colin's school came by this evening and spoiled him. Mrs. Beachler, Mrs. DeWitt, Mrs. Szafranski, and Mrs. Kiktavy brought lots of smiles and laughter. He is very thankful for the company and the gifts were all very appropriate. The new Sorry Sliders game was played with his teachers, and believe it or not, Colin won - and he didn't cheat! He watched the Speed Racer movie with his roommate, Laquenten, he is curled up in bed with the OSU bed pillow, and I will of course make him do some reading – even if he listens while I read it to him.
To end a busy day, Pat Patton, from hockey, snuck in at the end of visiting hours to say hello to Colin. It was so nice of him to stop and share some hockey news with us. We hear that the 96 Black Warriors were having a string of good luck with #14 on their helmets. So sorry that ended against Columbus. We hope they will get a chance to play them again and turn it around in their favor. Go Warriors!
VISITATION: The policy for visiting Colin is still open. You will not need to contact us to be added to a list. If you have any problems with getting in to see Colin, my cell is 440-724-7293, call and I will get you clearance. Schedule week of 10-27: For those that have inquired about visiting Colin during the week, his open times are as follows: Monday 2-3 and 4-8. Tuesday 1-3 and 4-8, Wednesday 2-3 and 4-8, Thursday 1-2 and 4-8, Friday 2-3 and 4-8.
Read More on Colin Teets UpDate
Volume 0, Issue 0, Posted 11:44 PM, 10.28.2008