Colin Teets Update 10/30/08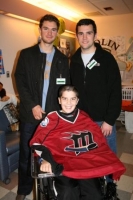 It's hard to believe that twenty-one days have passed since Colin entered the hospital. Three weeks have gone by already and it feels like I've only blinked. This afternoon, Paul and I attended our first team meeting. These meetings are held biweekly and involve all Colin's therapists, a nurse and one of his physicians. They all agree he is making steady progress. After briefly summing up his advances they discussed what would take place over the next two weeks. He will continue to work on activities of daily living in occupational therapy. Julie will be coming to Colin's room early at least one day a week to help him learn ways to dress and groom himself, hold utensils and feed himself with his non-dominant hand, and practice transitioning in and out of the wheelchair. Julie plans to add some weight bearing activities as well. Lisa, his speech therapist, who has been working with Colin on swallowing teaspoons of water, as well as speaking, has informed us that it will probably be another week or more before Colin will have another swallowing test. Until then he has some exercises to do with his voice to strengthen the muscles in his throat. She will work on this and we can do them with him also. In physical therapy, Colin has been in a stander and using the leg immobilizer to help him stand. Tomorrow Naomi plans to use another machine to get his legs moving on a treadmill. Her goal is obviously to get him walking.Dr. Henry, will be writing a prescription for an Ankle-Foot Orthotic, or AFO, for his right foot. This will help control his foot as he gets ready to walk. I asked Colin if he would like pink and purple butterflies on his AFO to match his sister, Megan's, AFOs. Of course he shook his head no, but smiled because he knew I was kidding.
The Hospital is having a Halloween Parade tomorrow at 10:00 am. So, I made a Halloween costume for Colin tonight. He asked to be a ghost, which was easy enough to make and will be simple enough to put on over a wheel chair. Don't worry, we'll post a picture.
VISITATION: The policy for visiting Colin is still open. You will not need to contact us to be added to a list. If you have any problems with getting in to see Colin, my cell is 440-724-7293, call and I will get you clearance. Schedule week of 10-27: For those that have inquired about visiting Colin during the week, his open times are as follows: Monday 2-3 and 4-8. Tuesday 1-3 and 4-8, Wednesday 2-3 and 4-8, Thursday 1-2 and 4-8, Friday 2-3 and 4-8.
Read More on Colin Teets UpDate
Volume 0, Issue 0, Posted 11:37 PM, 10.30.2008