Lakeland Lights by Joan Tropf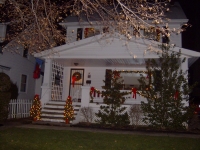 Lakeland Avenue Block Club held its first Lakeland Lights celebration this year. Neighbors illuminated and decorated their homes to celebrate the Winter Solstice, Christmas, Chanukah, New Year, Kwanza, or just to chase away the winter darkness.
Prizes were awarded in the categories of Winter Wonderland, Best Traditional Decoration, and Most Humorous. All decorators were also entered into a drawing for a Participation Prize.
Prizes and in-kind donations were generously provided by Aladdin's, Melt Bar & Grilled, Dewey's Pizza and Inventus. Thanks also to The Merry Arts and Roman Fountain Pizza for our Block Club Holiday Party where the prizes were awarded.
The Lakeland Avenue Block Club is co-chaired by Mara Manke and Carol Mason. Lakeland Lights was co-ordinated by Joan Tropf and Kim Langley.
Read More on Block Party Beat
Volume 5, Issue 1, Posted 10:16 AM, 01.14.2009