Mike Summers To Be Lakewood's New Mayor!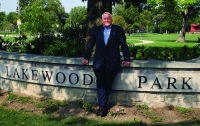 At the time of publication Michael Summers has now been appointed to the office of Mayor. Many thanks to all of the applicants who took the time to submit their names to become a public servant and share their talents with the City of Lakewood. At last night's council meeting council passed a resolution suggesting Ward 3 Councilman Michael Summers as Mayor Ed FitzGerald's succesor. Although the position of Mayor was filled without any interview process by a vote of City Council two council seats (one at-large and now Ward 3) still need to be filled. Over the next few weeks Council intends to conduct these interviews and make their decisions at a later date.
The following were the applicants for office of Mayor currently held by County Executive elect, Edward FitzGerald. At the beginning of September, council put out a general call for applications for mayor with an initial deadline of October 1, 2010. Seven names were submitted for this deadline (in bold). After an extension until November 9, 2010, six additional brave, community minded individuals added their names to the list.
David W. Anderson, Michael Holyko, Kyle Krewson, Brian O'Boyle, Jim O'Bryan, John J. Polk, Robert Popp, Daniel Rigney, Jeffrey Sobieraj, Michael Summers and Scott Swisher.
The term of office will begin January 1, 2011 and continue for one calendar year. The selected interim Mayor may choose to run for reelection in November of 2011.
Although their future colleagues on City Council will select this individual, here at the Lakewood Observer, we wanted to shed some light on what each of these aspiring public servants feel they would bring to the job in question. To do so, we asked each applicant to address the following questions.
1) You are seeking a nine month appointment, there is no money, what will you do? Are you planning to run in the Fall?

2) What civic groups are you affiliated with/what civic involvement do you have in Lakewood?

Their responses are below.

Read More on City Council
Volume 6, Issue 23, Posted 8:16 AM, 11.16.2010