Lakewood's Treasures... Lakewood Hospital's Professionals... When In Need? Friends Indeed! Gary, with Bob Rice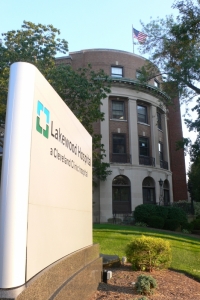 Over the years, I've discovered that talking about hospitals or medical care is a great deal like talking about politics or cats. It's been my experience that people have very strong opinions about all four topics, and it seems that the older I get, the more I hear about the topics of hospitals, medical care and politics. As far as cats go? Well, I would suspect that cats and their owners would regard their topic to have been settled once and for always. Anyone not sharing their point of view? Pity them.

In all candor, I have, over the years, heard from a few people who said that they did not have the best experience at Lakewood Hospital. In the case of my family, we've needed that facility many times in the past, and our experiences, while not always perfect, have generally been very good ones.

With any hospital or medical experience, there's a boatload of anxiety involved. Families are, at times, uncertain what to do...or where to turn. Ever-changing insurance issues can also necessitate patients needing to use doctors or hospitals that are a part of their particular plan, and if their insurance changes? They may then need to consider getting other medical providers. All too often these days, people may find themselves without medical insurance at all, so those situations can also come into play. In the face of all these variables, it's little wonder that a trip to the hospital can be stressful.

Once an independent facility, Lakewood Hospital is presently a part of the Cleveland Clinic system. Lakewoodites not having visited the hospital recently may well have some questions as to what is going on there. First and foremost, while some services have transferred to other facilities in the Clinic system, our Lakewood Hospital remains very much a real hospital, having everything from emergency services to a fine neurological and stroke center. That's where my own family's last experience transpired, when Dad needed to undergo a recent outpatient visit and tests.

In the first place, when I called the Neurological Department at Lakewood, I came in contact with a lovely person on the desk. She soon ascertained the purpose of my call, and we quickly were able to schedule an appointment with a Neurologist. When we went to our appointment, the doctor then advised Dad that he needed to have several tests. Normally, those tests would have involved return visits to the hospital on other days, but when I asked that same desk person about whether any of those tests could be done on the day of our visit, she immediately made some calls, and we were fortunately able to get everything done on the same morning as our appointment! All of the testing facilities were within a short walking distance too!

Now I know that a number of people prefer to go the the large downtown hospitals for any number of reasons, but the personalized service that my family has received, time and again at Lakewood Hospital from great people like those in Neurology who recently helped Dad...all of that counts for a great deal with us. On the day that we were there, every person whom we encountered in each department that we dealt with, were all very pleasant and utterly professional. Again, the best thing for us was that all tests happened to be close to each other. That's pretty important to older people. The personal attention that we received simply could not be beat either. From the expedient scheduling, to the testing, it was an outstanding day indeed. Even the hospital cafeteria food that we sampled later that day was first rate. Seniors can also make arrangements to eat there in the evenings at a special price.

Dad's results turned out fine, and both of us thought that it would be nice to give a shout out to those great people down at Lakewood Neurology, and to Lakewood Hospital in general. Lakewood is indeed fortunate to have friendly and professional world-class care, only minutes from your door.
Read More on Pulse of the City
Volume 8, Issue 18, Posted 9:58 PM, 09.05.2012