L.A.K.E.W.O.O.D.- A Proposal For Our Times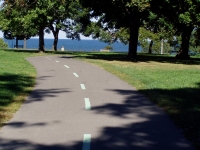 When my family moved to Lakewood in the 1950s, we were welcomed by many people. There was even a "Welcome Wagon" type of experience, where we were greeted by a wonderful lady bearing a basket and coupons from neighborhood merchants. The church and school system both took us in with equally welcoming gestures, and people on our street quickly became our friends and good neighbors.

That was then. These days, baskets can be hard to find. Especially when young people want to play outdoor basketball, although I do understand that some of that may finally be coming back to more places in our city.

Getting back to my topic, I wonder whether new arrivals to our community are able to receive anything like the welcoming my family experienced? While it seems many new businesses are being welcomed along Detroit Avenue these days, I cannot help but wonder whether we are welcoming new Lakewood residents with equal enthusiasm. While a solid business district is a good sign of a healthy community, I have not heard much about how we, as a community, welcome our new residents. True, that welcome is there if those new residents reach out to our fine community resources and organizations, but exactly how much do we, as a community, reach out to them?

In so many ways, Lakewood is not very different from when my family arrived from Pennsylvania a half-century ago. The welcome that we received back then had a great deal to do with why we chose to stay here all these years. These days, my family feels very blessed to be a part of this city. We presently have a church, we know good tradespeople and shopping preferences, we have a great attorney, and we do business with many Lakewood establishments, a number of which we came in contact with through that first encounter with a Lakewood welcoming person. Many new arrivals, as well as many others already here, may not be aware of the many fine aspects that our city has to offer. Our community probably could be even more proactive in widening our circle of welcoming to include these people.

Recently, I had an idea that our city might institute something that has already been informally practiced by many in the Lakewood Observer community. This concept would simply involve expanding the opportunity to build on the Lakewood Observer's mission regarding greater community involvement. Perhaps we might call it something like this:

L.A.K.E.- Love and Kindness Enabled W.O.O.D- We Offer Others Dreams

The L.A.K.E.W.O.O.D. concept could simply be a citizens' volunteer group--or perhaps a community volunteer database comprised of Lakewoodites willing to help others as needs arise. This informal networking association could serve as a welcoming association, and could also help as a fast-response referral service for those in need. This association could include anyone or any business willing to volunteer what they can. This list of volunteers or city services/activities could include the following:

Use of the city's shuttle buses to give weekly or monthly "this is Lakewood" tours for new residents.

Certificates for new residents covering everything from a bag of groceries to haircuts to music lessons etc...Whatever neighborhood merchants might be willing to provide.

Coupons or even complementary coffee or meals for area restaurants and coffee shops. Area merchants could also provide their own enticements for new residents.

Volunteer school teachers might be willing to hear about a child's school problem, possibly even helping with a homework question, or even going with a parent to school for a conference.

Volunteer lawyers or accountants might be willing to provide informal advice to people in a jam.

Tradespeople may be willing to provide advice or even limited free assistance or networking help for the myriad of problems that Lakewoodites face around the house or around town.

Translation services could be made available (some of that is already transpiring through various agencies, but it would still be nice to have some volunteer translators on hand).

Pastors could be listed who would be willing to marry, bury, or just lend an ear as the need arises.

Each and every talent and service in this volunteer group would be needed and necessary, if for no other reason than to show caring and outreach to people who find themselves in unfortunate circumstances (and who among us has not felt that way at one time or another in our lives?) or for those who may be new to our city and unsure of their surroundings. This informal networking association would not be intended to take regular work away from tradespeople, retail merchants, or professionals, nor should it necessarily be a springboard for free advertisements or job solicitations. The free help provided would necessarily be limited in scope, and would therefore be generally non-commercial in nature.

The L.A.K.E.W.O.O.D. vision should probably not become a heavily formalized organization either. No unnecessary monies should be involved, or received, by volunteers. Only a modest expense account should suffice. All that would be needed would be YOUR help, and perhaps a loan of a desk, phone, internet access and possibly even a website, and of course the willingness to go forward to help others. The bare bones of the operation could function out of a church office, or perhaps even some former broom closet. By its nature, this sort of thing would be confidential and informal and mostly non-governmental in nature. Some people would rather talk informally with a caring person one-on-one before the official "system" comes into play.

Of course, L.A.K.E.W.O.O.D. volunteers should somehow be screened and trained, and would have to abide by the law regarding the reporting of crimes or abuses, as would any citizen. Those particular messages would need to be stated to every caller at the beginning of every call. Lakewood citizens helping other citizens at the grass roots level might help to avoid having matters reach boiling points as well. This group might not simply address poverty-related issues either. Even the wealthy sometimes do not know where to turn. We all need someone who we can trust to talk with from time to time.
While I am not aware of the legalities or other details involved with implementing such a service, I thought that initiating this discussion might be worth our time. For far too long, there have been those who have worried unduly about the transient nature of our city and its new arrivals. There are, however, many people over the years who came here and realized that Lakewood was, and remains, a vibrant and ever-evolving city of caring people and businesses. There are also many Lakewoodites who remember how it was when they first arrived here. They remember that they were cared about and welcomed. Rather than worrying about new arrivals, let's welcome them with open hearts and arms, as we were once welcomed ourselves!

L.A.K.E.W.O.O.D.: volunteer Lakewood residents greeting new residents and helping other residents in their time of need. What do you think? Our city could even become a national model for welcoming new arrivals. We already do many things right that way. What more might we consider doing?
Read More on Pulse of the City
Volume 8, Issue 20, Posted 8:58 PM, 10.02.2012