Support The School Levy? YES! By Gary, With Robert Rice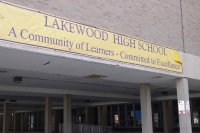 Timing is everything, or so they say.

You know what people say about the truth being stranger than fiction sometimes?

I had JUST completed a twelve hundred word column, expressing in the strongest possible terms, why I felt that it was high time that we took a hard look at doing something about those supposedly "temporary" modular classrooms currently in use across the street from Lakewood High School. For six years, going on seven now, our students have needed to cross busy Franklin Blvd. several times daily, in all kinds of weather, in order to complete their high school education. Both Dad and I have felt for a long time that having so many students out of the building, multiple times during a school day, continues to be a very serious concern. Thinking of possible short term solutions, we even wondered whether Franklin Blvd. could be closed off during the school day, or whether an enclosed over-the-street walkway might improve the immediate situation? Hopefully, our school district is taking a hard second look at all aspects of school safety and security, particularly these days.

Anyway, I had that column all ready to run- in THIS VERY issue in fact, and then... the school board decides to ask for an operating levy in May. After a few second's reflection, Dad and I decided to pull that column out of the in-bin for now, and instead, to write a new one in support of the school levy.

Why? Simple.

Because the schools need our help again, and it's time for us all (using that time-honored baseball metaphor) to step up to the plate and swing for the fences. While it would be great to see a building campaign begin that would complete the high school, and improve other elementary schools, our present community need is to focus on our school system's day-to-day operations, and that's where this levy would be used.

Whether you are a big fan of private schools, home-schooling, the charter school movement, or whether you support any of a dozen other philosophical points-of-view regarding the public schools, the fact remains that an excellent, and well-supported public school system is perhaps the strongest asset that a community has. Strong and well-maintained public schools exponentially increase a community's "curb appeal," as well as being a proverbial "canary in the coal mine" indicator as to how a community is responding to the world around it. If a community's public schools are not doing well, then... flat-out truthfully? Neither is the community. Property values suffer, public perception of that community suffers, and generally speaking, that community just starts going down the tubes, big time.

At the same time, yes, some public school districts have been known to sometimes mess up and mismanage things. As with any of our governmental bodies, our churches, and other public institutions, our schools always need continual public input and oversight in order to function well, and they will only be as responsive to the community, as a community is responsive to them. Adding to all of this has been the continual difficulty that all public school systems have with responding to increasing Federal and State mandates, and with responding to the ever-changing demographics of a society on the move.

This past year, the Lakewood City School District has truly reached out to our community in a request for feedback regarding many present and future aspects regarding its plans and operations. Through that process, much good has been achieved, while much remains to be done.

What is currently being asked for on the May ballot will be a basic 3.9 mil operating levy. No, as indicated, this levy WILL NOT fix the high school's building issue, because operating funds can't be used for building funds. The levy WILL instead be used to help manage the ever-present class size issue, update texts and technologies, help to increase attendance and graduation rates, and help to develop local community business partnerships for the schools.

Our Lakewood Schools have a long history of providing excellence, even, and perhaps especially, under adverse conditions. The collapse of the American economy in 2008 certainly did not help Lakewood's plans to complete the high school, or pursue other construction dreams. At the same time-- a singular great community determination, based on Lakewood Schools' traditional "tough-it-up, we-can-do-it anyway" attitude, has come into play. Our schools continued their pathway to excellence even through the Great Recession, and they continue on that pathway even today.

Dad and I have both taught in the Lakewood Schools in the past. I also went through the schools as a student from the second through the twelfth grades. We both presently continue to volunteer with Lakewood's schools. As we pass through the hallways of the various buildings, we see professional and committed staff members, dedicated students, and a positive learning environment throughout our school district. We've observed neither excess fluff, nor excess luxury in the process. Lakewood has an extremely business-like, and very well-run school district, that equals or surpasses any other public school district that we have worked in.

For these reasons, Dad and I would like for you to join us in full support of the upcoming May Lakewood school levy. This is a crucial time in the history of the Lakewood City School District. It's time for us all to step up to that plate and start swinging.
Read More on Pulse of the City
Volume 9, Issue 4, Posted 9:31 PM, 02.19.2013