Another World War II Story... The OTHER Veterans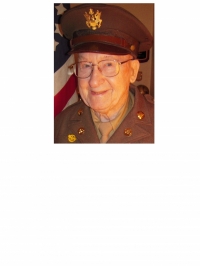 This column is dedicated to my father:
Robert R. Rice, 336th Band, CWS, United States Army 1941-1945

My father is a war veteran, a retired Lakewood teacher, a school band and orchestra director, and co-composer of "The American Veterans Last Salute March," showcased and conducted by Dad in 2011 with the American Festival Pops Orchestra in Manassas, Virginia. He recently got a call from someone who wanted to interview him about his WWII experiences. He has received a number of those in the last few years, as students and archivers frequently want to document those pivotal times in American history. Like all soldiers, sailors, airmen, marines, WACS, WAVES, and merchant marine sailors who participated in that superhuman effort to defeat what was then the greatest threat to democratic ideals that had ever been assembled, Dad has looked at his own participation in those events quite simply:

"I was just a soldier doing my job, nothing more, nothing less."

Dad, a Lakewood music teacher for many years, has historically declined to be interviewed about his own WWII experiences, primarily because most of the interviewers seem to want to hear from combat veterans. Whenever he goes to veterans' activities, people will inevitably ask him "Where did you serve?" Implicit in their question, all too often, lies the thought that if he wasn't actually ever shot at, why did he bother showing up at the ceremony?

This column will attempt to answer that unspoken question.

For one, virtually all WWII Army veterans were, in fact, shot at. The three cross-firing machine guns (firing real tracer bullets) on those night-time infiltration courses may have been on fixed mounts, sighted in to fire above the soldiers' bodies, but when you crawled under those barbed wire obstacles on your back with explosive charges going off to your left and right, there was always that question as to how high up you could lift your M-1 Garand battle rifle to support the barbed wire fence so that you could crawl under it before you got a finger blown off or you burst an ear drum due to a concussion from those explosive charges that had been pre-buried in the course. One day, a soldier near Dad lost his nerve, and was accidentally shot when he tried to stand up during the exercise. Dad was luckier; he only damaged the hearing in his right ear when one of those charges went off a little too close to his head... but there are no medals given for a evening's crawl on an infiltration course.

Look, let's face it, those "blood and guts" combat stories always seem to be what grab the public's attention, and while those combat veterans certainly have their own honored story to tell, it just seems there's a whole 'nother set of tales to be told about most of the other WWII veterans that are simply being ignored. Those would be the stories that come from the vast seldom-recorded majority of WWII veterans--probably 80%, who never saw actual combat but honorably served their country while supporting the heroes who were on the front lines of battle. Because without that support, there would have been no battles.

See, it was like this, according to Dad:

"Every soldier was called upon to do the exact same thing, and that was to do whatever they were told to do--at ANY time or place, and at ANY hour of the day or night. They all went through the same basic training that I did. They all experienced the same fears, separation anxieties, and thoughts of home, as well."

Here are a few more of Dad's thoughts. I wrote them down after getting off the phone with another of those wanna-be interviewers who were "really just looking to interview combat veterans." For much of his time in service, by the way, Dad had been a bandsman and an entertainer. Thinking about that latest phone call, Dad turned to me and started to speak:

"You know, Gary, there aren't too many of us WWII vets still around, and there are probably even fewer guys like me, who were actually in the peacetime service before the war, and stayed in the service from before Pearl Harbor all through the war until it was finally over. As far as the servicemen who supported the combat veterans go? Just ask any commanding officer, even today, and they will tell you that the single greatest enemy of a unit in the field is morale. In the service, and particularly during wartime, keeping the morale up was everything. Everything that the soldiers ever knew and loved was left back home. Those guys would have spent many a lonely night without us. After a hard day's work on the drill field, those GI's were happy to be able to be entertained and get to dance with some gals. That was my job. To be there for them. Believe me, that was just as important as getting shot at. Morale was a very important thing everywhere; keeping the right attitude, man! The right attitude was everything! They couldn't even have had a parade without us!"

Dad continued, "...and what about the cooks, the mechanics, the hospital orderlies? Everyone in the service had an absolutely essential job, otherwise they would not have been there, and 'there' was wherever the Army wanted them to be! Even in the band, our combat-related job would have been as stretcher-bearers. Someone had to go and get the wounded off the field, even if we became wounded in the process."

"Keeping up morale on the home front was equally important too. Our unit traveled hundreds of miles from town to town, giving big patriotic shows depicting combat situations. We even brought along fold-up aircraft and exploding pillbox bunkers to put into action in stadiums and on football fields. We also participated in giving private businesses "E for excellence" war production awards, and we even had a "Salute to Wood" caravan that rolled across the South extolling the virtues of forest conservation." Dad concluded: "Gary, for an army to succeed, every single part of it has to work together and work together well. Otherwise, the other guy wins."

Of course, there is always more to a veteran's story. In Dad's case, he was assigned to a Chemical Warfare unit. His unit was almost always in the presence of very nasty and toxic biological and chemical substances. There was generally some unusual smell wafting over the camp just about daily, and back in those days, HAZ-MAT suits, effective ones at least, had not yet been invented.

Gosh Dad, I guess you did finally give an interview after all. Thank you so much for your service. You, and ALL of the WWII veterans, truly helped to save our world.

Dad's 93rd birthday is coming up in April. I know that Lakewood joins me in wishing you a very happy birthday.
Read More on Pulse of the City
Volume 9, Issue 5, Posted 9:45 PM, 03.05.2013