LEAF Presents: Cheesemaking With Lucky Penny Creamery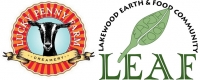 You are invited to join the Lakewood Earth and Food (LEAF) Community for an educational session on cheesemaking with Abbe Turner of Kent's Lucky Penny Creamery. The demo will take place on Wednesday, July 31 at 7 p.m. at Trinity Lutheran Church (16400 Detroit Ave.).
Abbe, a milkmaid, cheesemaker, and Slow Food delegate, studied at University of Wisconsin-Madison and the Pennsylvania Association of Sustainable Agriculture. She uses the goat and sheep milk produced at Lucky Penny's partner farms to create handmade artisanal cheeses including chevre, feta, and ricotta, as well as other dairy products. Abbe will demonstrate how to make cheese at home and create a perfect cheese plate for summer entertaining, as well as discuss the cheesemaking process, from farm to creamery, and present recipes and creative ideas for appetizers and more.
As always, this LEAF educational event is free and open to the public.
For more information about LEAF and its educational events, find us on Facebook, check out our website at leafcommunity.org, or email us at leafcommunity@gmail.com.
Read More on LEAF Community
Volume 9, Issue 14, Posted 8:59 AM, 07.10.2013