Our Century City...Living In Lakewood 50 Years Ago. Encouragement! A Tribute To An Unknown Harding Teacher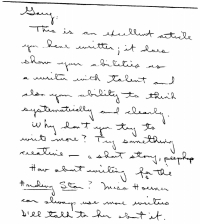 Going through those old papers...

You know the drill. Around your home somewhere, you probably have a drawer or two (or three) filled with them. It's amazing how quickly papers accumulate, is it not? Old credit card receipts, medical records, and phone bills mix in with old business cards and household warranties...Before long, those drawers won't close, and it's clean-out time.

I've been doing that for awhile now. My dear late mom saved everything she thought might EVER be needed for reference purposes. She learned a valuable lesson about that when a milkman claimed that we'd not been paying our milk bill. Fortunately, she'd sent checks in for payment, and had the canceled checks to prove it. She taught me that if I kept my receipts, I'd never have to worry about those kinds of problems later on.

Mom kept all my school stuff too. I came across all of that not long ago. Want to see my photos? What age would you like to see? I have them all. Want to see my grades, on the other hand? Well, never you mind about those. If you've read my columns now for any length of time, you'll know that, essentially, I was at war with school since my first day of class.
The attendance numbers for my elementary years tell a great deal about that war: 1st grade? 28.5 days missed. 2nd grade? 30.5 days missed. 3rd grade? 23.5 days missed. 4th grade? 32 days missed. 5th grade? 19 days missed. 6th grade? 21 days missed. Some of those days were due to chronic illness, but many more came as a result of teasing, bullying, verbal abuse, and getting beat on and pushed around mostly because I was very small for my age, was severely deaf, had an equally severe speech problem, and had bad "duck-walking" legs.
Someone at school even wanted to put me into whatever passed for a class for "slow" children back then. When the school psychologist tested me, however, he was surprised to learn that I was a very bright young man. Problems? I had 'em, yeah, but I had brains too, and maybe (as I chuckle here) that was another problem for me all along. Although I really tried to be a good kid, from my first day of 1st grade class until my last day of school... when confronted with a threat, I seriously defended myself. I never picked fights and I only lost one in my life. I took many licks, but if there was one thing that I knew how to do, it was survive.

Heaven knows how I might have turned out, later in life. Fortunately, along the way, I had plenty of support from some very good and caring people. My parents certainly were always there for me, and so were a few friends and some great teachers. Those teachers who were there for me, I truly appreciated, and did well in their classes. As for a few others? The less said about them, the better.

Anyway, back to those papers...

In going through those old school records, I came across a note that was given to me by a teacher. Apparently, I'd written something that greatly impressed her/him, and as you can see from the note, she/he even suggested to the faculty adviser of the Harding Star paper that I start writing for them. I wish I could remember which teacher she/he was. The letter is unsigned. Those words of encouragement were the stuff dreams are made of, and as you also know (if you've been reading any of my roughly two hundred columns and articles for this paper) I indeed took those words of encouragement and ran (or rather, wrote) with them.

Of course, I also decided to become a teacher for students having special needs, and my career in education spanned more than 30 years and several school systems. After my retirement from the classroom, I returned to my original writing interests, not only with this paper, but with nearly two hundred music and education-related articles for other publications, as well as writing many songs, poems, short stories, and several book projects currently in the works.

Encouragement means so much to young people, and particularly so for a young guy who was in the situation I was in. Writing gave me an outlet for expression that was deeply powerful, therapeutic, and cathartic. See, as a writer, I did not have to worry about my speech, hearing, or leg problems. When I wrote, all of those other problems quickly went away, either with the scratchings of my pencil or with the clicking of these keys.

Were there also some kind and caring teachers in your own past who helped you along the way as a youngster? I'll bet there were. I wish I could personally thank that unknown teacher who encouraged me with the letter that my dear late mother so lovingly saved. Instead, I'll simply have to let this public tribute suffice. Unlike generals and politicians, great teachers may never have a black granite monument erected to their memory in some public park.

The only real monument that those great teachers will truly have...is you.
Read More on Pulse of the City
Volume 9, Issue 15, Posted 10:38 PM, 07.24.2013