LEAF Presents: Putting Your Garden To Bed With OSUE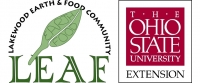 You are invited to join the Lakewood Earth and Food (LEAF) Community for an educational session for gardeners with the OSU Extension. The session will take place on Wednesday, September 11 at 7 p.m. at LEAF's community garden in Madison Park (13201 Madison Ave.; garden is on the Athens Ave. side of the park).
Nicole Wright from the OSUE will discuss how planting cover crops can improve your garden soil, how row cover can extend your season, and how putting your garden to bed can make next season easier. LEAF Community gardeners are eligible for row cover, metal hoops, and cover crop seeds. Nicole is a Program Coordinator with OSU Extension's Urban Agriculture Program and provides education and technical assistance to support community gardens throughout Cuyahoga County.
As always, this LEAF educational event is free and open to the public.
For more information about LEAF and its educational events, find us on Facebook, check out our website at leafcommunity.org, or email us at leafcommunity@gmail.com.
For more information about the OSU Extension and its educational work in Cuyahoga County, visit cuyahoga.osu.edu/.
Read More on LEAF Community
Volume 9, Issue 18, Posted 1:37 PM, 09.05.2013