Lakewood's Louis B. Seltzer Was Influential Journalist
Louis B. Seltzer of Lakewood was editor of one of America's great newspapers, the Cleveland Press, for 38 years.
With the demise or semi-demise of the Plain Dealer, many of us think back to a time when, like the Cleveland area itself, our local newspapers were lively and vibrant. From 1928 until 1966 the driving force and editor of Cleveland's leading newspaper, the Press, was Lake Avenue resident Louis B. Seltzer.
Lakewood writer Dan Chabek describes Seltzer's childhood. "Seltzer was born in 1897 on Cleveland's near west side. His father, Charles Alden Seltzer, eventually became a successful writer of western stories, but during Louie's youth the family was very poor."
"Louie, at 13, without finishing seventh grade, left school to become an office boy and cub reporter for the (Cleveland) Leader," continued Chabek. "After several years of switching back and forth between that daily and the Cleveland News, he joined the Cleveland Press in 1915."
According to the Encyclopedia of Cleveland History, the Press was the flagship of the communications chain founded by Edward W. Scripps. The Press was founded on Frankfort St. in downtown Cleveland as the Penny Press on Nov. 2, 1878. The Encyclopedia continues, "by its 25th anniversary in 1903 the Press was Cleveland's leading daily newspaper. As it entered the 1920s, the Press neared 200,000 in circulation and maintained its political independence by proposing the city manager form of government for Cleveland and supporting Progressive candidate Robert La Follette for President in 1924."
In 1960 the Press purchased its afternoon competitor the Cleveland News, leaving only the morning Plain Dealer as its print competitor. For many years thereafter the Press was Cleveland's afternoon newspaper and the Plain Dealer was the city's morning paper, having purchased the Cleveland Leader in 1917. Competition between the two news organizations was fierce as each sought to be the first to break a story or to uncover corruption. The Press, under Seltzer, enjoyed a stellar reputation. So much so that in 1964 Time Magazine rated the Press among the top 10 newspapers in America.
However, the Press and other evening newspapers faced increasing competition from television, which had gradually worked its way into American living rooms beginning in the early 50s. Eventually broadcasts of the live evening television news spelled doom for most of America's afternoon newspapers, including the Press. After years of declining circulation and associated advertising dollars the Press eventually closed on June 17, 1982, leaving the Plain Dealer as the only daily Cleveland paper left standing.
Seltzer was a hands on editor and his leadership helped to propel the Cleveland area to its golden years. During Seltzer's time, the area bustled with commerce and industry. By 1950 the city's population had grown to 914,808 making it the seventh largest city in the country (in comparison, according to census records, today Cleveland ranks 48th in population). At that time, neighborhoods were alive with commerce. Flats steel mills spewed red soot 24/7 into the air, workers in the area's auto plants assembled vehicles and auto parts around the clock, Lakewood's neighborhood bars opened at dawn and were filled by 8 a.m. with dirty, tired workers stopping in after their shift for a shot and beer before turning in and doing it all over again later that day. Downtown, sidewalks were brimming with smartly dressed secretaries and clerks from law firms and accounting offices. Sohio, National City Bank, Union Commerce Bank and Diamond Shamrock workers filled the coffee shops and spent lunch hours shopping at Halle's, Higbee's, Sterling Linder and the May Company.
The Press was located at E. 9th and the Shoreway. Six days a week around 3 in the afternoon, the drivers hurriedly picked up their stacks of papers from the shipping dock. Their Navy blue Press trucks then sped furiously in all directions to drop off their bundles of papers on neighborhood street corners for home delivery.
Seltzer took an extremely active leadership role in the area's affairs and was known as greater Cleveland's number one booster. He actively pushed improvement projects and urged support for like-minded politicians. He was highly visible and one of greater Cleveland's most popular personalities. Under Seltzer The Press, true to its roots, maintained a working class perspective on issues. He devoted day and night to his efforts of keeping greater Cleveland "The Best Location in the Nation."
Among the Press' and Seltzer's most controversial news stories during this time involved the Bay Village murder of Dr. Sam Sheppard's wife, Marilyn. Marilyn Sheppard was brutally murdered on July 4th, 1954 in the couple's lakefront Bay Village home. Headlines screamed for weeks as the murder investigation and eventual trial unfolded. Dr. Sheppard vehemently denied the crime, but the media and prosecutors were convinced of Sheppard's guilt and vowed that he should not be allowed to get away with what some called the crime of the century.
The case drew national attention and the Press under Seltzer, demanded Sheppard be brought to trail and justice be served. Sheppard appealed his conviction from prison and in 1966 his conviction was overturned. Sheppard died a few years later as a broken man. The controversies over the case remain to this day.
Seltzer and the Press also opposed the extension of Clifton Boulevard through Clifton Park. Seltzer joined forces with Lakewood Mayor Frank Celeste in opposing the new road, but they eventually lost out to County Engineer Albert Porter's desire to extend the road through the historic area.
Seltzer and his wife Marion, whom he had married in 1915 lived in two places in Lakewood according to writer Dan Chabek. "Both addresses were on Lake. They moved to 17427 in 1931 and to 17825 in 1936. The latter residence, in Clifton Park, a beautiful English Tudor built in 1928, was their home for 30 years." Seltzer frequently rewarded the neighborhood kids, including the Shirars, Cullens and Georges with Indians' box seats. This type gesture went a long way in keeping the annoying sound of dribbling basketballs to reasonable times of morning and evening.
Marion died in 1965 and a year later Seltzer retired from the Press. Eventually Seltzer faded from the local scene and moved to Medina County with his daughter where he died in 1980.
Today we live in a time where few understand the distinction between news and information. Before televised news, newspapers and journalists like Seltzer educated, informed, and set the agenda for their local cities, states and the nation. Lakewood's Louis B. Seltzer was a nationally recognized giant on journalism's stage.
Tom George can be reached at (440)734-8177 or TJGeorge1369@msn.com.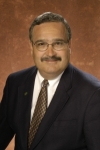 Thomas George
50+ years proud Lakewood resident BA Journalism, THE Ohio State University, Columbus, Ohio, general assignment reporter Ohio State Lantern daily newspaper active in civic and community affairs in Lakewood for many years
Read More on Historical
Volume 9, Issue 19, Posted 11:41 AM, 09.20.2013