Subway Carnival Supports Local Autism Organization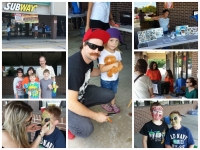 While the sun was playing hide and seek, smiles shone bright on the faces of children!
On Sunday August 18th, John and Rita Boutros of Subway in the River Square Shopping Center on Detroit Rd, Rocky River, OH, joined forces with Unite This City and local area businesses to host a carnival and raise funds for Milestones Autism Organization.
Families were invited out for a day of snow cones and boardwalk style games where the kids and adults alike could win cool prizes donated to the cause by local area businesses. It was a fun day for all and over $1000 in cash and prize donations was raised in 3 short hours for this great cause.
Milestones Autism Organization is dedicated to improving the quality of life for individuals on the autism spectrum and their families here in North East Ohio. Their programs, in evidence-based practical strategies, are designed for the education of family members and professionals that care for autistic individuals.
Special thanks to our local business sponsors for this event including Subway, Mitchells Ice Cream, the Burntwood Tavern, Reagle Beagle Mens Salon and Harry Buffalo of Lakewood.
When you are in the area, please be sure to shop these great community supporters.
For more information on Milestones Autism Organization, please visit www.milestones.org or contact Debbie Hoberman at dshoberman@milestones.org.
For more information on Unite This City and its community initiative, please visit www.unitethiscity.com.
Daniel Ruth
Active in the community, I have spent the past 5 year working with local business to assist in growth and increased utilization by community residents. As of late, I have taken to writing about different events and activities in which I am involved in to help spread the word about the importance of our local organizations.
Read More on In Your Backyard
Volume 9, Issue 19, Posted 11:41 AM, 09.20.2013