Say CHEESE, And Raise The Flag!!! (And Our Flag Was Still...Where???)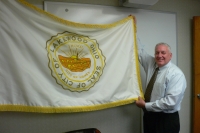 Welcome to Lakewood, a neighborhood of Cleveland???

Yes, it could easily have happened. Collinwood did it. Old Brooklyn did it, West Park did it too, supposedly over an issue of fire protection.

I'm talking about merging with Cleveland. In the early years of the 20th Century, there was serious talk in Lakewood, and in the other inner-ring aforementioned neighborhoods, about whether we should merge with the big city. There were even referendums on Lakewood's ballot twice (in 1910 and 1922) and they failed both times, so Lakewood continued on as an independent city, while other neighborhoods did not. Interestingly, at that time, Lakewood was a "dry" town that did not permit alcohol establishments within its borders, and that may also have contributed to the voting pattern back then.

These days, partly for economic reasons, the term "regionalism" continues to come up from time to time. The replication of services in so many smaller communities is indeed a very expensive burden for taxpayers to maintain, particularly since the economic downturn of 2007-8. Even without official merging, inner-ring communities are increasingly and understandably trying to find more ways to work together to save money in order to make governments more streamlined and efficient. Just a few years back, four of our eastern suburbs seriously contemplated merging, although that did not happen.

Still, here we are. Lakewood continues to have its own unique identity in Cuyahoga County, at least for the time being. That point made, there is, however, one thing that perhaps we could be doing a bit more of around here:

Flying our own flag.

No, seriously. A quick search on the internet will yield quite a few results regarding city flags, both in our own country, and worldwide. Even Cleveland has its own distinctive flag. I just entertained friends from Peterborough, Ontario, where they too, have a beautiful city flag. Apparently, the tradition of city flags goes back thousands of years, when city-states were the primary form of government; much farther back in time before nation-states unified into the governments that we know today. Sometimes, however, that's not as long ago as it might seem. For example, neither Germany nor Italy became official countries until 1871, and of course, due to wars and political unrest, national maps continue to change all the time.

Some cities even have more than one flag. The ancient German city of Bremen, for example, has four versions of their flag, not including the national colors of Germany! In time, Bremen became part of the Hanseatic League, a confederation of merchants and cities formed to protect their economic and defensive interests. As kingdoms and principalities grew into nations, flags were designed out of necessity for ever larger geographic areas. When the French leader Napoleon came along and started occupying more and more European real estate, his own Imperial Standard flag flew over many lands, until the individual cities and nation-states came together in order to stop him.

As an independent city, Lakewood, like Bremen, has no problem working with other towns in our region when it suits our city's interests to do so, and yet we, like Bremen, prefer to be as independent as possible. While the Northeast Ohio area could well be compared to the Hanseatic League in some ways, the strength of such an affiliation would seem to lie in the fundamental autonomy and distinctiveness of the various towns and cities that lie within that region. While the economic strength of a geographic area may well depend on regional planning from time to time, so too it can be argued, does the moral strength of an individual community drawing from its own unique identity.

Each of the communities that ring present day Cleveland, and even Cleveland itself, all have unique stories to tell, unique identities to reveal, and even unique histories all their own. Each neighborhood, even the ones that were annexed into Cleveland, continue to be unique in their own way. Indeed, a great part of the attractiveness of our entire Northeast Ohio region would seem to be the special neighborhoods that we have. Going from one Northeast Ohio neighborhood (or city) to another is akin to visiting another fascinating land.

So, does Lakewood already have a flag? Yes indeed we do, it's primarily white, and has the seal of Lakewood (A City Of Homes) centered on its facing. Seen one flying lately? No? Perhaps that's something that we should talk about. Perhaps Lakewood should be showing its flag a bit more often. Although there are probably those who might downplay such a thought in this time when some may want to de-emphasize the importance of a local community in favor of our entire region, there would nonetheless be a very good argument that we should instead, be celebrating the autonomy of the communities within our region.

Yes, by all means, let's hoist our Lakewood flag more often! When I dropped by the Mayor's office, he kindly agreed to pose with our city's flag. Although it is displayed in several places around City Hall, (and there's even a box of extras) so far, there is no mechanism in place for a resident or a business to purchase a Lakewood flag. Additionally, the flags that Lakewood does have on hand seem to be indoor flags, which probably explains why there's not been one on the flagpole in front of City Hall in ages. In my discussions with the Mayor, we determined that this whole situation is well worth looking into. Over the years, some people have jokingly referred to Lakewood's flag as being "The Cheese Omelet Flag", due to it's allegedly superficial resemblance to that breakfast food, when viewed from a distance. Unfortunately, like one version of the old Southern Confederacy's so-called "Stainless Banner", Lakewood's mostly-white flag also could also look quite a bit like a surrender flag, if the wind was not blowing.
Perhaps it's time to think about a new flag design? We might begin by looking at the school colors of Lakewood's high schools. Then too, we could look to our history, and to our future, for even more inspiration. Why not have a school contest? One way or another, let's figure out how more businesses and residents can get their own distinctive Lakewood City flags. It could even be a great city fund-raiser at some of our upcoming summer events.

One thing's for sure. When we do get our flags, we'd better wave them in the breeze long and hard. Otherwise it might indeed look like we're hoisting the empty white flag...of surrender.
Read More on Pulse of the City
Volume 10, Issue 11, Posted 6:24 PM, 05.28.2014