Life In Lakewood, A Half-Century Ago...The Coolest Car In Lakewood!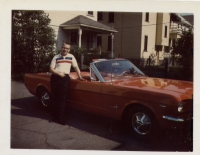 The fall and winter times of 1963-1964 around Lakewood were, as all times are, I suppose, times of change. In November, our country had experienced the horrible trauma of losing President Kennedy to an assassin's bullet. By February, the Beatles arrived on our shores; providing a welcome distraction to the mass malaise that had overtaken our collective psyches. More and more American soldier/advisers were boarding planes in snowy locations for destinations in steamy locations like Saigon, Vietnam. The Iron Curtain in Europe was well-entrenched by then. Every now and again, you would hear of people either escaping from, or defecting to, the Communist world.
Around here, life went on, much as Lakewood life does now. The schools, churches, delis, and bars all did their usual thing in their usual way. Mostly, we all just hunkered down between those high snowdrifts, and waited for springtime to happen. My loving family did slosh down to Bailey's Department Store in Lakewood to get me that "Meet the Beatles" record, and my musical world would never be the same again. They'd also taken me down there to meet the new (and very friendly) Cleveland Browns player Paul Warfield, and get his autograph too, but my interests were more with music than with athletics back then.
As springtime began to blossom, so too did a new car design that captured America's attention in a BIG way. Advertised for "$2,368, f.o.b. Detroit", the new Ford Mustang was a show-stopper indeed. Dad (Robert Rice) had been a "Ford man" back then through and through since he had been old enough to drive. His first car had been a robin's-egg blue 1934 Ford convertible V-8 cloth-top roadster, complete with a "rumble seat" where the trunk usually went. Passengers would bravely sit out in the elements as Dad merrily tootled (OK, well, "scooted") down the highway.
After his stint in the army, Dad picked up several additional Fords over the years, and by 1961, a handsome black Ford Falcon station wagon graced our driveway. As time passed however, Dad yearned for a car having a bit more of the "flashiness" that his '34 convertible once had. When the Ford Mustang came out, as far as Dad was concerned, HIS car had once again returned!
And... not just ANY Mustang, of course, but a Mustang convertible too! Before long, Dad had procured a bright red convertible with a white top from Marc Lance Ford, on Highland Ave. (W 117th St.) right here in Lakewood. The "$2,368, f.o.b." price did not apply to convertibles, and so that spunky 289 cubic inch V-8 beauty actually set Dad back around $4,000 at the time. It was one of, if not THE first of its kind that was sold in this area; and yes, it WAS arguably, the coolest car in Lakewood!
Talk about a head-turner- and FAST? Whooooooie! Of course, Dad was very much a law-abiding school teacher, but he was also a human being. 'Nuff said about the speed thing. Anyway, yes, no doubt about it, that car WAS cool.
For me, being in the back seat of a compact two-door was not the most comfortable place to ride. At the same time, I felt like a movie star back there, as Dad drove through our Lakewood city streets. Mom waived casually to our neighbors, and you could practically feel those barbs of envy shooting our way.
Of course, as with any "cool" earthly possession, not everything was always quite as "cool" as one might otherwise hope for. Hopping on those hot red leather seats on a summer day in your bathing suit, when the top had been down for awhile, provided the opportunity to show your parents just how fast you could hop right back up again! Your blistered legs would smart for days if you forgot to put a towel down first.
Driving through farmland one day, it also got pretty hot and windy, so the parents decided to put up the top. Good move too, as perhaps 10 more miles down the road, we ran smack-dab into an angry swarm of bees.
After a few years, I was just about ready to begin to drive. At that point however, Dad was ready to trade his gorgeous "Pony Car" off for a large comfortable sedan. Wind-in-the-hair was exchanged for more space-in-the-trunk, and life went on. Whether Dad and Mom were at least a little concerned about their darling rock'n'roll era son, tootling, (OK, SCOOTING!) about town in Lakewood's coolest car, I guess I'll never know, although I do have my suspicions about all that.
For my 94 year-old father's recent birthday, it was my honest intent to present him with a brand new Mustang. With the help of the wonderful people (particularly, Sales Consultant Diana Tait!) at AutoNation on Center Ridge (formerly, the Lance car dealership) we brought a gorgeous red one to the home for his perusal. Dad absolutely loved the car, as did I, and it brought back many fond memories for us. Unfortunately, times had changed, and it was sadly just a bit too tough for him to get in and out of a low car at this point in his life.
Still, the Ford Mustang, at least to Dad and me, will always be the coolest car in Lakewood!
Read More on Pulse of the City
Volume 10, Issue 15, Posted 10:32 PM, 07.22.2014