Those Among Us...Mark "Shane" Phillips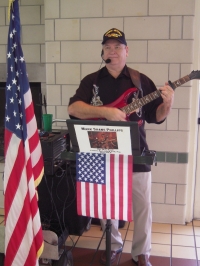 It's been said by more than a few over the years that we can count our true friends in life on the fingers of one hand. In my case, I've been blessed to have had quite a few friends over the years, but yes, truth be told, over time, some friendships have not always turned out the way I'd imagined that they would. Sure, people move away, pass away, or otherwise leave the stages of our lives, as indeed- so do we, theirs. A few so-called friends can also betray our confidences, take advantage of us, and sometimes leave us grieving in their wake of their own destructive tendencies. A very few remain true friends for a lifetime. This story is about one of those friends.

I can't remember the exact time and place that I met Mark "Shane" Phillips, but it must have had a great deal to do with the music that we both enjoy so much. We had a rock band together, and it was a really good one; to the extent that 45 years ago, our band SKIE tied for the Battle of the Bands on Lakewood Day, 1970, down in Lakewood Park. No one could sing lead like Mark could. Both Mark's dad, and my own, were highly skilled musicians, so their expectations for both of us were always very high. They continually backed us with support, and with good equipment too.

When we came of age, the Vietnam War was in full swing. While I went off to college, Mark received his post-high school lessons in the jungles over there. Even then, he often entertained the troops; sometimes while they were under sniper fire. I'll let him tell you about those days if you want to ask him. Suffice to say that they were really tough ones. I met him at the airport when he came home from the army, and we left together for Florida immediately. I learned one thing about Vietnam vets very quickly: You do not wake them up suddenly. I apparently startled him one morning and, had he not quickly realized where he was, I could have been in for an adventure.

After he came home from Vietnam, Mark had changed in many ways. Oh sure, he tried to be the same old Mark, at least for awhile, but he was experiencing an uphill battle indeed. He took on the stage name "Shane", as he and his dad had always enjoyed the movie by that name, taken from the book by former Lakewood resident and author, Jack Schaefer. Indeed, much like the character in that movie, Mark "Shane" Phillips took many years, and endured many trials of life, in order to adjust to his post-Vietnam life. On his return from that country, he had also resolved to being a professional singer/songwriter/guitarist, and he's a really good one too. With half a dozen albums to his credit and many terrific original songs under his belt, his main audiences these days can be found at nursing and extended care facilities around the Greater Cleveland area, as well as at many area entertainment night spots. Shane can also be seen working as a solo artist on Bahama cruises, whenever the spirit moves him.

Since we were teenagers, we've been as close as two brothers could ever hope to be. I met Mark shortly after one of his older brothers had passed away suddenly. Because of our common musical interests, we grew very close. Whenever Dad and I needed help around the house; whether to insulate a room, or to remove wallpaper, or whatever... we could count on him being around, and he was here this week too, when the big downstairs A/C unit failed. Amazing how few friends you can find to help out with that job, but between Mark and my dear next-door neighbor, we made short work of that replacement project. Amazing though, how Mark and I lifted that heavy unit shoulder-high into the dining room. See, there's this inner strength, when you are with a friend- that you can draw upon when you don't think you can really do something, and then you just go and flat-out do it. Mark and I felt like we had the world on our shoulders, and we virtually lifted it up, too!

So yes, this is indeed a long overdue thank-you, as well as an expression of friendship, to a great guy, a fine entertainer, musician, and an all-round great human being. You'll often see him perform around Lakewood and he still lives close by. He was here entertaining at the Garfield School emergency shelter when Hurricane Sandy hit, and he and I still get together to play our music from time to time. We even re-formed our old band to perform at Lakewood High School's Class of 1969's 40th reunion awhile back. Mark and I have also played for Senior Center activities, veteran's events, and many other special occasions.

Mark "Shane" Phillips has always been a true friend to me, as I hope, from the bottom of my heart, that I have also been the same for him. His heart has always been close to Lakewood, and his music continues to be close to all of us; keeping good time indeed to the pulse of this city.
Read More on Pulse of the City
Volume 11, Issue 15, Posted 4:30 PM, 07.21.2015