Holy Week For The Ordinary Life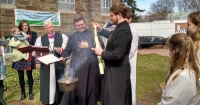 Steve Sink, the owner of Belle Barber, was cutting my always-overgrown curly hair. "I think I saw you in your robes the other day with your congregation out in the courtyard of the church." "Was it a wedding?" I asked. "Perhaps," he replied. "Were we walking around with Palms?" I continued to guess. No, that wasn't it. "Was there a lot of smoke? Was I lighting a fire?" He wasn't sure. After some conversation we settled on the idea that it must have been a procession of some sort, the haircut continued, and the conversation moved on.
Being the Vicar and founding priest of Lakewood Anglican has taught me a great many things since our first service in October 2014. Some have been practical, such as how not to catch your robes on fire when surrounded by candles on Christmas Eve. Others have been cultural, like seeing the glowing reactions of children from all religions and backgrounds amazed at seeing the "real Saint Nicholas" at Light Up Lakewood. (No, it's just me - your local Anglican Vicar in a fake beard...but don't tell them.) But most of my learning experiences have just been human interactions in everyday life in our wonderful city. Living life together, in a community of front porches and sidewalks, lends itself to bringing our Lord Jesus into everyday life in an especially human way. After all, that was and is precisely Jesus' mission and method. He brought and continues to bring God's power and love into ordinary life. He did it by bringing normal people - fishermen, tradesmen, a historian, a tax collector, amongst others - into the will of God.
There are many reasons that I love being a Christian and a priest in the Anglican tradition. First and foremost, I cling in certain faith to the truth that, like those ordinary people two thousand years ago, God loves me so much that he came to rescue me. He rescues me from what the Book of Common Prayer terms, "the deceptions of world, the flesh, and the devil," all of those things that tempt me. He saves me from my selfishness and those things that make me ashamed of myself and regretful. When I get stuck in sin and trapped in the mire of habits of life that are the results of that disobedience, I am not alone. Because of Jesus, I can turn to God the Father and the Holy Spirit for help. It is what Romans 5:1-2 means when it says, "Therefore, since we have been justified by faith, we have peace with God through our Lord Jesus Christ. Through him we have also obtained access by faith into this grace in which we stand."
God sent his son Jesus to allow me to once again approach God as a son, not a stranger or an enemy. But that relationship is costly. I particularly feel the power of Jesus' extraordinary actions in the midst of ordinary life during Holy Week, when simple things are made holy. At this time the ancient church invades modernity as the time-transcending story of God's love is once again told. But in our tradition it's not just told, but replayed and re-enacted. The special thing about Lakewood Anglican is that we do not just remember by passively witnessing this story, but by participating in it. On Palm Sunday we walk outside waving palm branches and shout "Hosanna" while in the courtyard as we greet Jesus, our God and King. Then, as part of a humanity that wants God on our own terms, we shout out "Crucify Him!" right along with those who stood before governor Pontius Pilate some two thousand years ago.
During the Tenebrae service on Holy Monday, we see the world plunged into darkness as the story of humanity - and the story of each one of us - is told. Disobedience of God's word and commandments reigns. Repeatedly God warns us to turn from our disobedient ways, and we ignore him. Despite this, he continues on his way to the cross, willing to suffer the consequences for our disobedience and that of the world.
As we continue on to Maundy Thursday, we gather with Jesus in the upper room. As he washed his disciples' feet, he showed them - and us - how the breaking of his body on the cross and the shedding of his blood will make peace between God and mankind. We then leave the church in silence as Jesus goes to pray before his trial and death.
On Good Friday we walk with Jesus through his accusation, trial, suffering, humiliation and death. Classical pieces of music accompany the Stations of the Cross. We are then invited to meditate on the hard wood of the cross, the cross which Jesus used to saved us.
Our Easter celebration at Lakewood Anglican is held on Saturday in the form of the Easter Vigil. The service is dramatic with candles, noise-makers, singing, and even building a fire in the courtyard. It tells the story of a world lost in death awaiting the resurrection of Jesus. His resurrection is represented by the lighting of a large candle from which we light our own candles. From death to life, Holy Week tells my story and the story of all Christians. I hope you will come walk Jesus' steps with us and see to what extent God loves you and wants to walk through ordinary life with you.
Father Sean Templeton is the Vicar of Lakewood Anglican which meets in Gethsemane Lutheran Church (14560 Madison Ave). Holy Week takes place this year from March 20-27. To learn more see their ad in this paper or go to www.lakewoodanglican.com
Holly Shaheen
Father Sean Templeton is a Lakewood resident and Vicar of Lakewood Anglican Church. For more information about Fr. Sean or Lakewood Anglican, visit www.lakewoodanglican.com
Read More on Religion
Volume 12, Issue 6, Posted 12:14 PM, 03.16.2016