Hospital Vote Q&A at Lakewood Library Sept. 13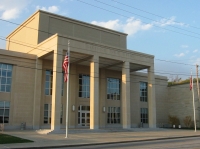 Lakewood's main library is the place to get informed about the upcoming vote on Lakewood Hospital.

This November, local voters will make a choice for or against a city ordinance closing Lakewood's publicly owned hospital. With early voting coming up even sooner, voters are invited to learn the details of this choice at a public Q&A, at 7:00 p.m. on Tuesday, September 13.

Everyone attending the free event can take home a voter guide with information from the Board of Elections. Along with the issue number for this vote, which the board will announce in early September, the guide will include ballot language and important voting deadlines. Panelists at the event will talk about these basics as well, along with the facts and background of this big decision.

Following the brief presentation, panelists will take audience questions on any and all aspects of the pending vote. The evening's panel will feature experienced representatives from law and government, including leaders of Save Lakewood Hospital, a local organization that opposes the hospital closing.

Save Lakewood Hospital spokesman Kevin Young says that "This evening is local democracy at its simplest and best. Community leaders will sit down with neighbors, and discuss the issues and process of an important vote, face to face."

The Sept. 13 event will take place at Lakewood's main library, 15425 Detroit Avenue, in the first-floor multipurpose room. (The entrance to the multipurpose room is reached through the children's department.) Advance registration is required as seating is limited, but all are encouraged to sign-up while spaces last by calling (216) 586-2401. There is no cost to register.
Matt Kuhns
Matt Kuhns is a freelance graphic designer, and occasional author.
Read More on Lakewood Health Care
Volume 12, Issue 18, Posted 4:10 PM, 08.30.2016