Five Key Takeaways From LakewoodAlive's "Knowing Your Home: Bathroom Remodeling" Workshop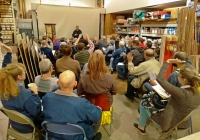 Longtime contractor Gary Lack glanced at the assembly of people before posing the question: "How many of you are living in a house built prior to 1940?"
When nearly every hand shot up, Lack immediately knew his audience. "This must be a Lakewood crowd."
It was a packed house and a Lakewood group indeed when 40 attendees gathered for LakewoodAlive's "Knowing Your Home: Bathroom Remodeling" workshop on Saturday morning, Oct. 22, at Cleveland Lumber Company. Lack led an insightful discussion regarding best practices for upgrading a residential bathroom.
Now in its third year, LakewoodAlive's "Knowing Your Home" workshop series draws hundreds of attendees annually to learn home maintenance best practices. Our workshop series is generously supported by: Citizens Bank, City of Lakewood, Cleveland Lumber Company, Fifth Third Bank, First Federal Lakewood, PNC, Remax Beyond 2000, The University of Akron Lakewood and Third Federal Savings & Loan.
If you happened to miss this particular workshop, we've got you covered. Here are five key takeaways from "Knowing Your Home: Bathroom Remodeling:"
1. Play the waiting game.
It's been said that patience is a virtue, and this famous proverb often applies to remodeling. Lack recommends new homeowners refrain from undertaking a major project, bathroom-related or otherwise, during their first year within their residence and instead take that time to learn about the house.
2. Plan ahead.
When it comes to your bathroom remodeling project, planning is incredibly important. The average bathroom project takes 18 business days to complete, according to Lack, but adequate planning must occur prior to that. Whether hiring a contractor or embarking upon a DIY project, be sure your design plan is drawn out in advance.
3. Be prepared for additional costs.
There are unknowns involved with a bathroom remodeling project. As such, it's necessary to plan for unexpected costs. This is especially true when you opt to demo rather than maintain the existing framework of your bathroom, as you simply don't know what awaits behind walls and under flooring.
4. Seek expert help when necessary.
Design accuracy is particularly important in small spaces like bathrooms, where there is little margin for error. If your project involves altering the footprint of your existing bathroom, it's probably worthwhile to seek guidance from a design builder or architect.
5. It's okay to take a gradual approach.
Sometimes you need to complete a bathroom remodeling project piecemeal due to budget constraints. This approach typically works fine – so long as you plan ahead and map out the project in appropriate phases. By taking a gradual approach, you can stay on budget and ultimately enjoy a much-improved bathroom.
Matt Bixenstine
I am the Marketing & Development Manager for LakewoodAlive. I enjoy all things Lakewood, especially walking my basset hound through Madison Park.
Read More on Home & Garden
Volume 12, Issue 23, Posted 3:38 PM, 11.09.2016