Eat & Learn With LEAF Community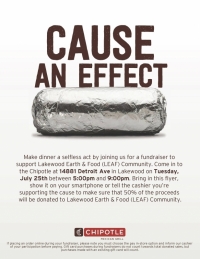 July is a busy month in the garden, which means it's a busy month for LEAF Community! If you have a green thumb (or want to get a better one), like to eat green foods, or just want to spend some green with local businesses, then you've come to the right place. Check out the events below.
LEAF Night Farmers Market
Stop by the front porch of the Main Library on Thursday nights between 5:30 and 8 p.m. for our weekly LEAF Night Farmers Market. A new season, means lots of new exciting local vendors, including The Vegan Doughnut Company! You can also still sign up for a City Fresh CSA share - stop down at a LEAF Night to pre-pay for the following week or order online through City Fresh's website (https://cityfresh.org) and pick-up with LEAF on Thursday.
Dinner at Chipotle for LEAF
Tuesday, July 25 from 5-9 p.m. at Chipotle, Lakewood location
Support LEAF Community when you dine at Chipotle in Lakewood on Tuesday, July 25 between 5-9 p.m. Show the flyer below or mention LEAF when you purchase and 50% of your order goes to support LEAF's programming, teacher scholarship program, farmers market, and more!
LEAF Hosts FREE Education Workshop
Monday, July 31 at 6:30 p.m. at Webb Community Garden, Webb Park
Learn about Integrated Pest Management with Jacqueline Kowalski, OSU Extension
Learn how to manage diseases and all means of critters that affect your vegetable plants. This even is FREE and open to the public.
For more information about LEAF Community or for volunteer opportunities, visit www.leafcommunity.org or LIKE us on Facebook: https://www.facebook.com/leafcommunity.org/.
Read More on LEAF Community
Volume 13, Issue 14, Posted 12:35 PM, 07.18.2017