Agostino's/Sushi Rock, A Unique Dining Experience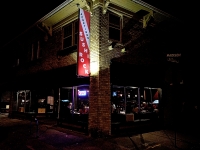 Agostino's/Sushi Rock, located at 15607 Madison in Lakewood, is a unique dining experience offering classic Italian and Sushi under one roof. Restauranteur Joe Gallo, longtime owner of Agostino's in Brooklyn, Ohio and a group of partners opened the new Agostino's in November of 2017.
The Italian menu includes small plates, greens and large plates with a well-balanced mix of traditional favorites and new Italian dishes. The sushi menu offers a full range of options including sushi appetizers, salads, assorted special rolls and classic rolls.
There is a full service bar that is separate from the main restaurant.
Since I have been to this restaurant three times and had three great experiences I thought I would share my experience with a review. The review offered a nice excuse to go again with some friends.
We were seated promptly and greeted by our waiter, Thomas. Thomas has a great deal of experience in the business and was knowledgeable about the Italian and Sushi menu.
We ordered two appetizers, a shrimp spring roll and tuna nachos. The shrimp spring roll was served with poached shrimp and a soy peanut sauce and was delicious. Tuna Nachos? I was a little leery but we all found the combination of nachos, sesame tuna with wasabi aioli and sweet soy an enjoyable and unique combination.
My wife and I started with a traditional Caesar salad romaine with parmesan cheese and Caesar dressing. There is an option to add salmon or chicken but we had it plain. The lettuce was fresh and the sundried tomatoes where a nice added touch.
I was tempted to order eggplant parmigiana but since my wife makes a great eggplant I ordered the Lobster Ravioli. The four large Ravioli contained ample lobster and a lot of flavor. They were served with a smoky cream sauce that was delicious. I shared the dish with my wife. There was plenty.
The couple that joined us ordered the cheese ravioli and the Dragon Roll. They said the ravioli was full of flavor and cooked perfectly. The Dragon Roll was a sushi roll made in the form of a dragon. Very artistic and quite tasty.
The service was excellent, the food was excellent and the prices are very reasonable. Give it a try.
Bill Call is a Lakewood resident.
Bill Call
Bill Call, Lakewood resident
Read More on Restaurant Reviews
Volume 14, Issue 3, Posted 4:45 PM, 02.06.2018