LEAF Heirloom Plant Sale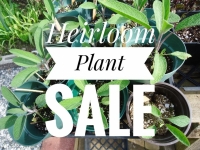 Spring is finally here and you're ready to get those plants in the ground! Well we can help get your garden off to a strong start at LEAF Community's Annual Heirloom Plant Sale. The plant sale will include several local seedling vendors as well as additional local food and craft vendors. Generously hosted once again by Lakewood Garden Center, this event is truly one-stop-shopping for all of your garden (and Mother's Day gifting) needs!

Vendors Include:
Ridge Bridge Farm: tomato and veggie starts
Community Greenhouse Partners: veggie starts
Fallen Angel: baked goods
Bay Branch Farms
Victoria Herbruck: flowers
Grainman: grains, syrup, honey, and more local foods
Little Lakewood Pasta Company: fresh handmade pasta
Bee Basic: handmade skin friendly products

Sign-ups for Cleveland Crops and CityFresh CSA shares will be available that day as well as LEAF Community merchandise at the LEAF table.
The LEAF Heirloom Plant Sale takes place on Saturday, May 12 from 2-5 p.m. at the Lakewood Garden Center, 13230 Detroit Ave.
Read More on LEAF Community
Volume 14, Issue 9, Posted 12:39 PM, 05.01.2018