LHS Junior Rangers MINI-CAMP Fall Warm-Up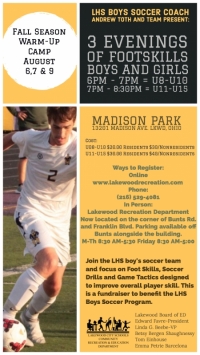 Join LHS Varsity Coach Andrew Toth and the Ranger team for their LHS Junior Rangers MINI-CAMP Fall Warmup!
Enjoy 3 evenings of footskill development as your player gets ready for the Fall season! Campers will focus on footskills, soccer drills and game tactics designed to improve overall player skill and confidence on the ball.
This camp runs August 6, 7 and 9th at Madison Park and is open to boys and girls from 1st (U08) to 8th(U15) grades.
U08-U10 players are 6:00pm-7:00pm $20/residents, $30/non-residents
U11-U15 players are 7:00pm-8:30pm $30/residents, $40.non-residents
You can register for this team fundraising event at the Lakewood Recreation Dept or on their website www.lakewoodrecreation.com
#rangerpride
Rick Harvey has been a Lakewood Resident since 1992, and is proudly raising 3 kids in the Lakewood City School System.
Rick Harvey
Lakewood Resident since 1992, proudly raising 3 kids in the Lakewood City School System
Read More on Sports
Volume 14, Issue 10, Posted 3:06 PM, 05.15.2018