Thursday Evening LEAF Farm Market Returns At LPL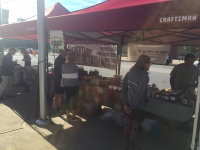 Starting on Thursday, June 7th, all are welcome to shop the LEAF Community Farm Market and enjoy a family friendly summer evening from 5:30 to 8 p.m. on the steps of the Main Branch of Lakewood Public Library. Every Thursday evening from June through mid-October, these evening farm markets will be filled with local vendors with everything from locally grown produce to bulk goods to unique arts and crafts and are open to all! For those that prefer to plan ahead, the market also includes a pre-paid CSA share pick up for City Fresh and Front 9 Farm. There is still plenty of time to sign up for your CSA with either group at: https://cityfresh.org/ or http://www.front9farm.com/.
Still looking to fill out your garden beds? There will be great deals available on perennials as well as free seeds for the taking at our first market of the year on June 7th.
Interested in vending at the LEAF Farm Market Evenings? We're seeking local food and craft vendors. LEAF is 100% powered by volunteers; let us know if you are able to volunteer at the event. Email leafcommunity@gmail.com if you're interested in vending or volunteering.
Lakewood Earth and Food (LEAF) Community is dedicated to the development of a more sustainable, healthful and economically viable community through environmentally responsible actions producing broad access to fresh, local foods, knowledge and culture.
Read More on LEAF Community
Volume 14, Issue 11, Posted 10:43 PM, 06.05.2018