Lakewood's New Chaos Coordinator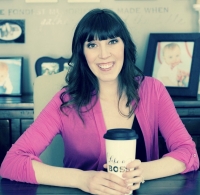 There's a new business in town that exists for one main reason: to reduce your stress. Lakewoodite Ashley Ciresi is a luxury productivity consultant, offering her services to help organize life's "stuff" so that her customers can have more time to do what matters most to them.
Ciresi creates systems and organization so that your pantry, your kitchen, your agenda, your whatever, is functioning in a stress-free, easy way. It's not a professional cleaning service—it's what she calls chaos coordination.
"Basically, I take stress out of your life," she says. "You tell me what you dislike about your space, your house, and your routine, and I come in and make it pretty, peaceful and stress-free. I offer a high-end, luxury service for organization—I'm a systems girl, so I create things that work for you."
As the go-to woman in professional office settings for almost 15 years, Ciresi has the background to live up to that claim. She has worked closely with doctors, law enforcement and attorneys on vital tasks to keep them on track and organized, so she is accustomed to high-volume workloads and tight deadlines. She has more than five years of experience as a paralegal, including for a high-profile national case.
Customers have already started using Ciresi's services, and are seeing immediate benefits.
"As a business owner operating from a home office, it can be quite difficult at times to keep both spaces up and running as efficiently as I would like," says Holly Mueller, owner of Holly M Communications and a customer of Ciresi's. "For me, time is money, and my business always takes priority over managing my home responsibilities. Ashley Ciresi has helped me organize both my home and office space into a seamless, effective environment that keeps important documents and tasks top-of-mind and easy to complete, and she's created a space that is much easier to keep clean and livable. I would consider her my office manager and lifestyle organizer. She truly is a lifesaver."
Ciresi's services are adaptable to business owners, parents, or anyone who has too much to do and too little time to do it. The systems she puts into place are designed to be long-term solutions, rather than short-term fixes.
"Ashley's efficiency, professionalism and enhanced ability to 'get it done' has been vital to my administrative needs as I'm growing my business," says Megan Duniec, President and CEO of Chief Marketing Consultant, LLC. "She accepts every responsibility with open arms and requires very little explanation from my side, which in turn increases my productivity relative to my workload. A win-win!"
Her decision to start her business stems from not only professional experience, but also an innate desire to organize and create functional spaces and processes.
"For as long as I can remember, I have had a very Type A personality," she says. "I have learned over the years that many people don't operate like that, and that is totally fine. It's literally the reason my idea came to life — to help the overwhelmed, successful woman. I love creating solutions to problems. I love helping people and minimizing their chaos."
As a mom of three young children, Ciresi knows what it's like to need process and organization to keep the wheels turning. She keeps things simple for her customers by offering package pricing, which includes things like container purchasing, travel time and on-site services, so there are no extra surprise fees.
Visit www.ashleyciresi.com for more information, or to get in touch with Ciresi.
Heather Tunstall is a writer, content marketer, mother, wife, entrepreneur, and lover of all things Lakewood and Cleveland.
Heather Tunstall
Heather Tunstall is a writer, content marketer, mother, wife, entrepreneur, and lover of all things Lakewood and Cleveland.
Read More on Business News
Volume 14, Issue 22, Posted 4:01 PM, 11.20.2018