Let It Shine!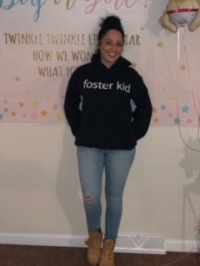 All 4 You Cleaning Services relocated to 14050 Madison Ave in Lakewood in August of 2018. A motivating factor in this decision was the city of Lakewood's support of foster youth. By the city designating May as Foster Care Month it reflects the support it has of foster care youth.
Support for foster care youth is something owner Melinda Gonzalez is very passionate about. Having survived bouncing between at least 13 different foster homes from the age of 6 to aging out of the foster care system in her early 20's, Melinda found herself on W. 25th with all her belongings in a black trash bag with nowhere to go, no money and no real education. Melinda's story is unfortunately how most foster youth who age out of the system end up: nowhere to go, no money and no real education.
Through hard work and dedication to building a better life for herself and her children, Melinda was able to start a humble cleaning business and turn it into a respected thriving residential and commercial cleaning business going on 8 years strong. She takes every opportunity to reach back and try to help the next foster kid.
Part of Melinda's vision to give back is LET IT SHINE: there is a light at the end of the tunnel. She would like to be able to provide a foster child an opportunity not only for employment, but for gaining confidence, growing their skill set and exposure to positivity so they can see from someone who has been in their shoes that they can make it-- there is a way out. Hopefully this opportunity will help build a foundation that they can expand on for the rest of their lives, whether they stay with All 4 You Cleaning or move on in a different direction.
Despite life's hardships, you can succeed in life and follow your dreams. This was one of the feelings that sparked the idea in Melinda's head to sponsor a foster youth's prom experience. Additional businesses and individuals are stepping up to join sponsoring the occasion: "A Night To Remember." Life is hard growing up in foster care, but at least for one night they will be able to enjoy just being a teenager going to Prom.
Melinda Gonzalez can be reached at 216-832-4658.
Marie Boyan
Office Adminsitrator of All 4 You Cleaning Services, LLC. We are a Residential & Commercial Cleaner. We also do Disinfecting & Sanitizing of facilities.
Read More on Business News
Volume 15, Issue 8, Posted 12:14 PM, 04.17.2019